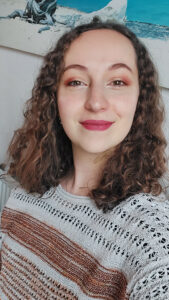 Name
Date of Birth
City of residence
E-mail
Nationality
Lisa Michelle Perelaer
17-01-1998 (dd/mm/yy)
Amsterdam, The Netherlands
info@lisamichelle.nl
Dutch
Work Experience
Mar 2022 - Present
UX Designer at Miniclip Netherlands
UX designer for Football Head Coach 2022
Sep 2021 - Feb 2022
Junior Front End Engineer at ING The Netherlands (secondment)
Front end web development for ING's website. I work in a team with SCRUM, and I program in vanilla JavaScript.
Jun 2021 - Feb 2022
DevOps trainee at YER B.V.
2-year traineeship with soft and hard skill trainings.
Sep 2019 - Feb 2020
ING Tech R&D
Game Design Intern at the ING Tech Research & Development department where we work with VR, AI and the like for innovation within ING and for clients.
Dec 2018 - present
The Craftskid, freelance
designing DIY projects for crochet & knitting
Jul 2019 - Aug 2019
Vinea Vakanties / Bomberbot
Coördinator on location and teacher of the program "Bomberbot Create" to children aged 7-13. Bomberbot Create is a visual programming tool that teaches children the logical thinking used with programming.
2015 Summer
De Tuinen
Cashier & merchandiser of natural products, supplements and body-care products.
Education
Feb 2018 - Mar 2021
Game Design, Bachelor of Creative Media and Game Technologies with Honours
HKU Utrecht School of the Arts, Utrecht The Netherlands
Sep 2018 - Mar 2019
Media Design, Special Exchange Student
Kyushu University, Fukuoka Japan
Sep 2016 - Feb 2018
Game Development, Bachelor of Science
HKU Utrecht School of the Arts, Utrecht The Netherlands
Sep 2010 - Jul 2016
Culture & Society Profile (C&M), VWO
Keizer Karel College, Amstelveen The Netherlands
Skills
Design
Research, Design documenting, explanatory drawing, executing playtests
Programming
C#, JavaScript, HTML5, CSS3, PHP
Programs
Unity, Microsoft Visual Studio, Microsoft Office Word / Excel / PowerPoint, Blender, Adobe Photoshop / InDesign / Premiere Pro, DaVinci Resolve, Cakewalk, Ableton Live 10
Languages
Dutch (native), English (fluent), Japanese (Conversational)
Others
Git, Planning & Organizing, Prepare & Hold meetings intern and with stakeholders, Music Composition, Pixel Art, 3D Modelling, Drawing